KLASSEN ADVANCED FILTRATION INC. - Canadian distributor for C.C.Jensen since 1994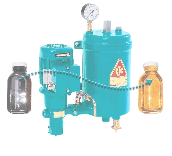 Particles

CJC Filters remove solid particles such as dirt, dust, and wear metals.

Water

Whether trace amounts of moisture or a full-fledged water leak, CJC has the technology to dry your oil.

Varnish

Varnish is often a slow and silent killer. CJC systems can not only remove but also prevent its formation.