Cogen Gas Turbine
CUSTOMER: The Onda Cogeneración SA ceramics plant includes a co-generation plant with two TURBOMACH gas turbines type TBM-T70, 7.5 MW.  Both turbines have been in operation since September 1998.  The plant belongs to the Pamesa Cerámica, SL Group.
THE SYSTEM: The turbine has a system for lubricating the bearings and the hydraulic system.  The lubricating system and the hydraulic system have a centralized tank with a capacity of some 3,000 L of SHELL Turbo CC 46 (ISO VG 46)  The gas turbine oil is sporadically subjected to very high temperatures  (Every 8oC increase in an oil will accelerate the oxidation rate and reduce the useful life by half!)  The oxidation process produces resins (sludge)  Analy-sis showed the lubricant to be highly contaminated with solid particles and resins.  This contamination was deposited on the surfaces of the system, blocking the pressure filters and causing malfunctions in valves, pumps and bearings.
THE SOLUTION: A CJC™ Fine Filter HDU 27/27 MZ-E1 with CJC™ Filter Inserts B 27/27 was installed in an off-line circuit in the turbine tank in order to clean the oil continuously with a flow of 660 L/h.  The Filter Insert has a filtration rating of 3 μm absolute, and absorbs also microscopic sludge particles and water.
THE RESULT: In a period of four months solid particle contamination has been reduced by a factor of 55 (see table) and the resins have been eliminated from the oil, and the clean oil has subsequently cleansed the entire system.  The comprehensive maintenance program ("Hands Free") keeps the oil free from oxidation at a superior level to that recommended.  This result will extend the life of mechanical components and reduce breakdowns by a factor of five.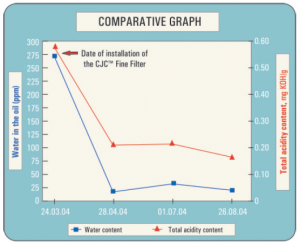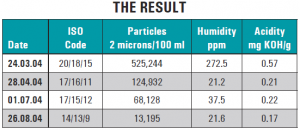 "We now recommend a CJC™ Off-line Fine Filter as an optimal proactive maintenance solution to eliminate oxidation residues from oil, together with fine wear particles that pressure filters cannot retain." – Mr Albert Peréz, Service Manager, Turbomach
Written by Mr. Thomas K. Jensen and Sr. Ricard Ortíz