Diesel Oil Diesel Backup Storage Tank, Gas Turbine
Diesel Oil Diesel Backup Storage Tank, Gas Turbine 
CUSTOMER: Power Station
THE SYSTEM: Diesel backup storage tank
Tank volume: 10,000,000 litres
THE PROBLEM
3 times every year the power station runs their gas turbine for 3-5 days on diesel to test their gas supply failure plan.  Unfortunately, the diesel quality was not up to standard level for use in the turbine, so the power station had no choice but to clean the oil.
Large amounts of water, diesel bugs (microbial contamination) and particles were detected in the diesel oil, plus high levels of sodium and potassium.
THE SOLUTION:
A CJC™ Filter Separator PTU3 2×27/108 MZ-E2PTWXY with a pump flow of 1,680 L/h was installed, using CJC™ Filter Inserts F 27/27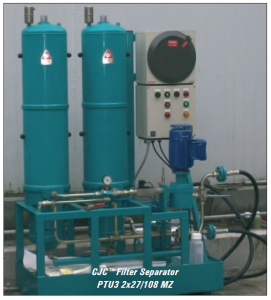 THE TEST
Due to the large amounts of water and sludge, some filter insert changes were expected in the beginning.  3 sets of filter inserts were used to remove the worst of the dirt and water
THE RESULT
In only one pass through the filter, the water level was reduced from 702 ppm to 71 ppm.  Approx 1,500 litres of water were removed from the diesel oil.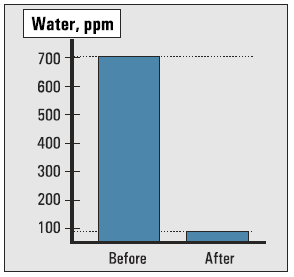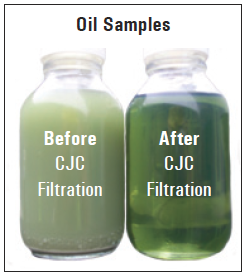 The 2 micron particle contamination was reduced from 28,860 to 17,041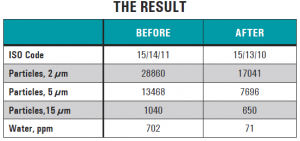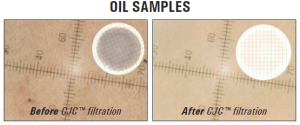 Sodium and potassium levels decreased to below recommended levels
2007-ASIN5087